Welcome to Superior Fireworks' wholesale website! Here you will find all the products and information you need to start a tent or fundraiser. You can also place wholesale orders for a large fireworks festivity or block party! We are open year-around, so you can place an order any time of the year!
Our new, 2014 fireworks have been posted! Check out the individual product categories to see what's new! As always, we have posted all items as "in stock" for our early-order sale, even if the item is still on backorder. If you need to place an order for immediate delivery, call us for inventory availability. If you need assistance with any of our products or placing an order, please call us at 904-213-0615.
All wholesale orders are subject to a $1,000.00 minimum, which excludes any applicable shipping fees and taxes. For more information, please see our Shipping Information page.
To place an order via fax or mail, you may use our Wholesale Order Form (PDF - Requires Adobe Reader).

Last Call for Early Order Discounts!

Today is the last day to receive an additional 5% off of your wholesale order for the month of March. If you plan on taking advantage of this offer, you need to place your order tonight by midnight EST. All ...

Read More




March 31, 2014

10% Early Order Wholesale Discount!

Back by popular demand, our 10% early order discount for wholesale purchases is running now through the end of February! Our new fireworks for 2014 have been posted, and all items have been made available for ordering, even if they ...

Read More




February 4, 2014
Subscribe to this Feed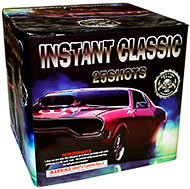 Instant Classic

Shots: 25
Colors: Blue, Silver, Red, Green, White
Description & Effects: Instant Classic is an awesome item with unique effects. Each shot fires up with a blue and silver mine that breaks into red stars with white glitter and a red, green, and blue pistil of falling leaves. It finishes with a rapid-fire 3 shot burst.
Quantity Discounts Available!