Welcome to Superior Fireworks' wholesale website! Here you will find all the products and information you need to start a tent or fundraiser. You can also place wholesale orders for a large fireworks festivity or block party! We are open year-around, so you can place an order any time of the year!
Fall is upon us and we are starting to re-stock for New Year's Eve! With the new season will come new items. We have starting adding some of the new products to the site already, so check around the to see what's new. If you need assistance with any of our products or placing an order, please call us at 904-213-0615.
All wholesale orders are subject to a $1,000.00 minimum, which excludes any applicable shipping fees and taxes. For more information, please see our Shipping Information page.
To place an order via fax or mail, you may use our Wholesale Order Form (PDF - Requires Adobe Reader).

New Product – Confetti Cannons!

Our new Confetti Cannons are perfect for your next celebration! These extra-large, compressed-air, confetti cannons shoot multi-color, paper and mylar confetti. Measuring 15.5″ long and 2″ in diameter, these cannons can blast confetti 15-20 feet in the air! Being non-pyrotechnic, they ...

Read More




August 26, 2013

We now offer financing through PayPal's "Bill Me Later" service!

Superior Fireworks has offered PayPal as a payment option since 2005. In years past, they have typically been known as a payment service for Ebay, as well as an alternative payment method to credit/debit cards on e-commerce websites. A few years ...

Read More




February 13, 2013
Subscribe to this Feed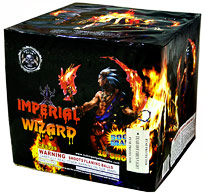 Imperial Wizard

Old Name: Imperial Garden
Shots:
16
Colors:
Gold, Blue, Green, Silver, Orange, Purple
Description & Effects:
Imperial Wizard fires 16 shots that break into gold, green, and silver glitter with matched blue, purple, orange, and sea-blue stars - ends with a finale of 4 shots of crackling willows.
Quantity Discounts Available!